Gaining access to plant areas, platforms and escapes routes is a key element of any industrial unit especially those with large sized machinery.
Commercial buildings, schools, hospitals and more can benefit from space saving by situating plant equipment at height and accessing via walkways and ladders. We offer a full installation service using galvanised steel, open mesh/durbar plate flooring panels, key clamp handrail and kick plates.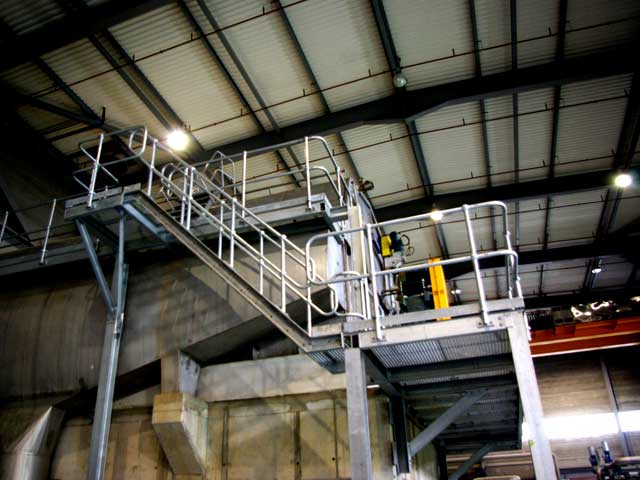 Steel Walkways and Gantries for Batley Businesses
Steelwork Engineering Services is an established company with an excellent reputation for the high quality of our steel walkway design, manufacture and installation services. . We have the expertise to cover all aspects of steel walkway design and installation, including the manufacture of walkways to fit specific locations.
Steel walkway installation services in Batley
Steel walkways manufactured by Steelwork Engineering Services are available in a number of different designs which can be tailored made to meet your own unique requirements. We offer a full installation service using galvanised steel, open mesh/durbar plate flooring panels, key clamp handrail and kick plates.
Suitable for installation in virtually all locations, steel walkways are incredibly strong, versatile and almost maintenance free. The can be installed in a wide range of locations including manufacturing plants, factories, offices, hostpitals and retail units. In addition, steel walkways can also be designed to include a wide range of additional features such as balustrades, handrails, fire escapes or steel staircases.
We're incredibly proud of the high standard of our products and by choosing to buy a steel walkway from us; you'll have the reassurance of knowing that our walkways comply with all relevant British standards and loadings.
Turnkey service for Steel Walkway installations in Batley
Our turnkey service is designed to take the hassle out of any building or installation project. Our team includes experienced, dedicated staff who are committed to providing the highest quality service every step of the way; from the concept and design stages, right through to the final installation.
Our dedicated design team have the expertise to design walkways suitable for use in a wide range of buildings. We use the very latest in 3D design software to produce professional drawings and every product we manufacture is made by us in-house by our own team of experienced staff, giving you the peace of mind that our products are designed and built to last.
Our installation team have many years of experience in installing steel walkways, staircases and platforms and we use a range of lifting equipment including mobile cranes, scissor lifts and cherry pickers to ensure that the installation process is as quick and straightforward as possible.
Call Steelwork Engineering Services on 01535 630100 for further information
Steelwork Engineering Services' steel walkway design and installation service is available to clients who are based in Batley. Our wide product range incorporates the design and manufacture of steel staircases and mezzanine floors, walkways, fire escapes, structural steel, racking systems and builders' beams. To find out more about our products or services or to talk through your unique requirements, why not get in touch with Steelwork Engineering Services today?